Click any image to view slideshow.
The Highway of Temptation and Redemption:
A Gothic Travelogue in Two Dimensions
New Orleans: Capitola Art Press, 2004
Written and Photographed
by Richard Sexton
To order, contact:
CAPITOLA ART PRESS
504 250 0384
[email protected]
[For a complete overview of this book, including a self-interview with Richard Sexton, click here.]
Overview
The Highway of Temptation & Redemption is cased in a black clamshell presentation box with an engraved brushed aluminum title plate. The binding is Japanese stab binding, sewn with Irish waxed linen. The cover is bonded matte black leather with a red silk ribbon marker affixed to the spine. 106 pages. 47 original color pigment prints and 1 quadtone pigment print on Somerset Enhanced Velvet, 190 gsm, 100% rag, archival inkjet paper. The text is printed on 28 lb. radiant white vellum paper. The end papers are printed in quadtone on Duo Brite Matte 180 gsm inkjet paper. The bound dimensions are 8.5"W x 10.25"H x 1.375"D. Each book is signed and numbered by Richard Sexton on the title page. The first edition is limited to 100 books only. Each purchaser may specify a print of choice from any image in the book, which will be printed on 255 gsm, Somerset Enhanced Velvet, 12" square on a 14"x15" sheet. The print is signed, embossed, and numbered. Please allow approximately three weeks after purchase for delivery of the accompanying print.
Introductory pricing: $1500.00, which includes clamshell presentation case, signed and numbered book and print. There is no tiered pricing planned for this edition. However, purchase price may be adjusted as needed to cover increased production costs. Books are produced in lots of four to ten books on an as-needed basis. The edition has been launched with the production of ten books for which the introductory price is guaranteed.
The Highway of Temptation and Redemption was exhibited at the Ogden Museum of Southern Art in 2005. The entire exhibit is now in the permanent holdings of OMSA through the generous gift of Hunt Slonem. Photographs of the installation and the opening reception are featured in the slideshow below:
This slideshow requires JavaScript.
The Highway of Temptation & Redemption was featured in the summer 2005 issue of Louisiana Cultural Vistas magazine.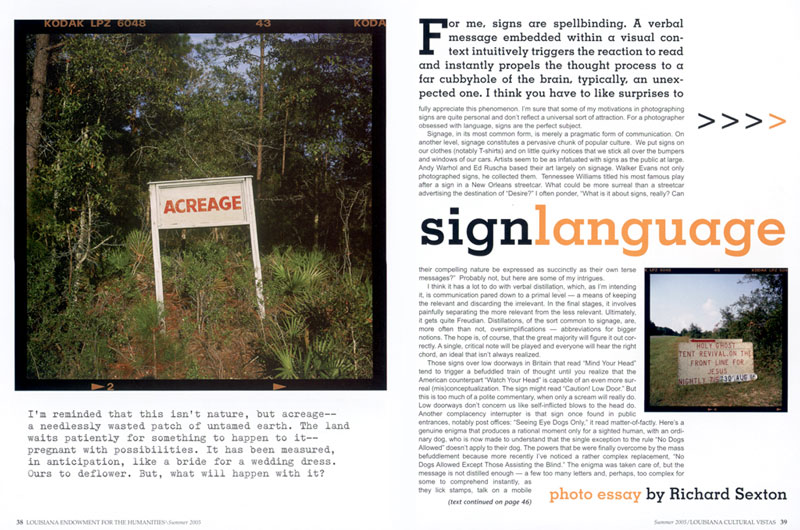 It was also featured in the August 2012 edition of the online magazine South Writ Large.