Click any image to view slideshow.
Terra Incognita and Creole World are unique in that these projects are currently traveling exhibitions, as well as books. For information regarding the travel venues for these projects, please visit my News Blog. To see the portfolio for Creole World, go to the Projects and Portfolios menu and click on Creole World.
---
Creole World: Photographs of New Orleans and the Latin Caribbean Sphere
by Richard Sexton
essays by Jay D. Edwards and John H. Lawrence
Published by The Historic New Orleans Collection
Designed by Alison Cody
240 pages; 203 photographs
$49.95 retail
ISBN – 13: 978-0-917860-66-9
Publication Date: April 2014
Synopsis from the publisher
New Orleans is often hailed for its distinctive Creole heritage—evident in its food, architecture, and people—but it is far from alone. Its creoleness may be unique to the United States, but New Orleans is part of an entire family of Latin Caribbean cities with similar colonial histories. Founded as New World outposts of Old World empires, these cities forged new identities from European, West African, and indigenous influences—by turns inspired by, in defiance of, and adapted from all of them.
Photographer Richard Sexton has been intrigued by this world since he first traveled to Central and South America in the 1970s. For him, the architectural and urban similarities among Creole cities compose a visual theme supported by endless variations both grand and humble, old and new, carefully curated and wonderfully slapdash. With more than two hundred stunning full color photographs of Cuba, Ecuador, Panama, Argentina, and Haiti, as well as New Orleans, this book opens a window on the Creole world.
Advance Praise for Creole World
"All the things that make New Orleans unlike North America confirm that it is part of another cultural world shaped by Spanish and French colonialism, West African labor and beliefs, and the rise and demise of the empire of sugar. Once rich and the cockpit of European rivalries, today this world is faded and forgotten but still alive. Creole World is a visual homage to past cultural connections and a vivid present." 
–Randolph Delehanty, author of Art in the American South and coauthor of New Orleans: Elegance and Decadence
"Marked by accomplished photography, perceptive essays, and an elegant design, Creole World offers the reader insights into a textured, layered, and lush world." 
–J. Richard Gruber, director emeritus, Ogden Museum of Southern Art
"Creole World reminds us… of the interconnectedness of all cultural habits and that where we come from profoundly informs who we are and who we might become." 
–Russell Lord, curator of photographs, New Orleans Museum of Art
"In Creole World, that old New Orleans greeting, 'How's your mama an' nem' gains depth and resonance. We learn that 'an' nem' includes our cousins in Haiti (cozen nou an Ayiti), our uncles in Cartegena (nuestros tios), our aunts in Cuba, (nuestras tias), and a wealth of other friends and relations in Panama. By depicting these connections so beautifully in pictures and words, Richard Sexton has made the Creole world at once larger, smaller, and better." 
–Lolis Eric Elie, writer for HBO's Treme and coproducer/writer of Faubourg Treme: The Untold Story of Black New Orleans
Reviews for Creole World, book and exhibit
For four decades Sexton has been playing a transcontinental game of Concentration, pinballing between New Orleans and the cities of the Creole diaspora—Havana, Quito, Cartagena, Cap-Haïtien—documenting resonances in architecture and style. His photographs have now been collected in the gorgeous Creole World: Photographs of New Orleans and the Latin Caribbean Sphere . . .One striking pairing is composed of portraits of public housing projects, one in the El Chorillo neighborhood of Panama City, the other in New Orleans's Central City. In both images an industrial apartment complex takes up most of the frame, but in the foreground there stands a lone Creole cottage—a lingering remnant of a historic neighborhood undone by poverty, misrule, and neglect. Sexton's photographs show that New Orleans is indistinguishable, in many aspects, from the capitals and port cities of Latin America. . .
—Nathaniel Rich in New York Review of Books Blog
Flipping through the pages of Creole World, it's easy to get lost. Not just in the sticky, humid languidness and the surreal bursts of color that come through with each photograph—but in the actual geography of the images. Richard Sexton's well-crafted comparisons illuminate the astonishing similarities between New Orleans and the cities of Latin America.
—Jacqueline Terrebonne in Architectural Digest.com; June 25, 2014
New Orleans' relationship to its Creole "family" of cities in the Latin Caribbean sphere is explored in a new exhibition from the Historic New Orleans Collection, with nearly four decades' worth of photographs by Richard Sexton. Architizer presents a selection of Sexton's images in a captivating gallery that teases out the architectural and historical ties between the Big Easy and the cities of Havana, Quito, Cartagena and Cap-Haïtien – as well as the inequality that is expressed visually through the cityscape.
—Francesca Perry in The Guardian; September 5, 2014
"Creole" is a term that evades definition. What once simply meant a Spaniard or Frenchman born in the Americas quickly came to have multiple racial dimensions and eventually became a term of cultural pride. Any attempt to fix its meaning, says Richard Sexton, 'is a good way to start an argument.' The New Orleans photographer takes a broad view—and a romantic one. His Creole World: Photographs of New Orleans and the Latin Caribbean Sphere is a study of interplay between the Old World and the New
—Photo Op: Mix Masters in The Wall Street Journal; July 11, 2014
Sexton's photographs are remarkably detailed, and yet they capture something ineffable in addition to the physical texture of these comparable places. The photographs capture something of the essence of each place, the Creole genius loci, if you will. Sexton has not merely described the facts of Creole-ness, he has evoked its spirit. The book is lovely to look at, and thoroughly absorbing. If you love things Creole, spaces that synchronize with the languorous pace of life in the tropical zones, this book will afford you ample vicarious pleasure. It is not, however, limited to armchair tourism. Sexton's epigraph shows his cards up front: Dedicated to the inescapable evolution of human culture and the endless ways in which old traditions, ideas, and practices are combined to make new ones. The adaptability of Creole architecture is evident throughout the book; elegant wreckage, hovering between destitution and glamour, demolition and splendor, seems endemic to the sphere Sexton records.
—George Slade from his blog Photobooks Recently Released and Reviewed; June 5, 2014
Renowned photographer Richard Sexton has traveled extensively across Latin America and the Caribbean, visiting and taking photographs in Argentina, Colombia, Ecuador, Cuba and Haiti where he has captured the architectural and urban similarities among these locales.  Sexton's recent collection of photographs in Creole World:Photographs of New Orleans and the Latin Caribbean Sphere, take readers on a mesmerizing journey through New Orleans and the evolving Creole world.
—Rebeca Schiller in Hand•Eye Magazine; May 28, 2014
. . . a visual investigation of the complicated culture—a mash-up of French, Spanish, and West African influences—draws connections between Sexton's adopted home of New Orleans and its sister cities in Latin America and the Caribbean.
—Elizabeth Hutchison in The Garden and Gun Blog; May 21, 2014
Creole World is a fascinating show based on a truly great book—one of the best ever about this city's architecture. Richard Sexton's Creole World is spectacular not only for the quality of his photographs of antique buildings in this city, the Caribbean and related portions of Latin America, but also for the seamless way those images relate to each other as a kind of architectural family album that reveals common cultural DNA. . . A perfect complement to his landmark tome of two decades ago, New Orleans: Elegance and Decadence, Sexton's Creole World is more than just a reminder of who we are as a city, it's a manifesto celebrating the cultures for whom the art of living is the greatest art of all.
—D. Eric Bookhardt in Gambit Weekly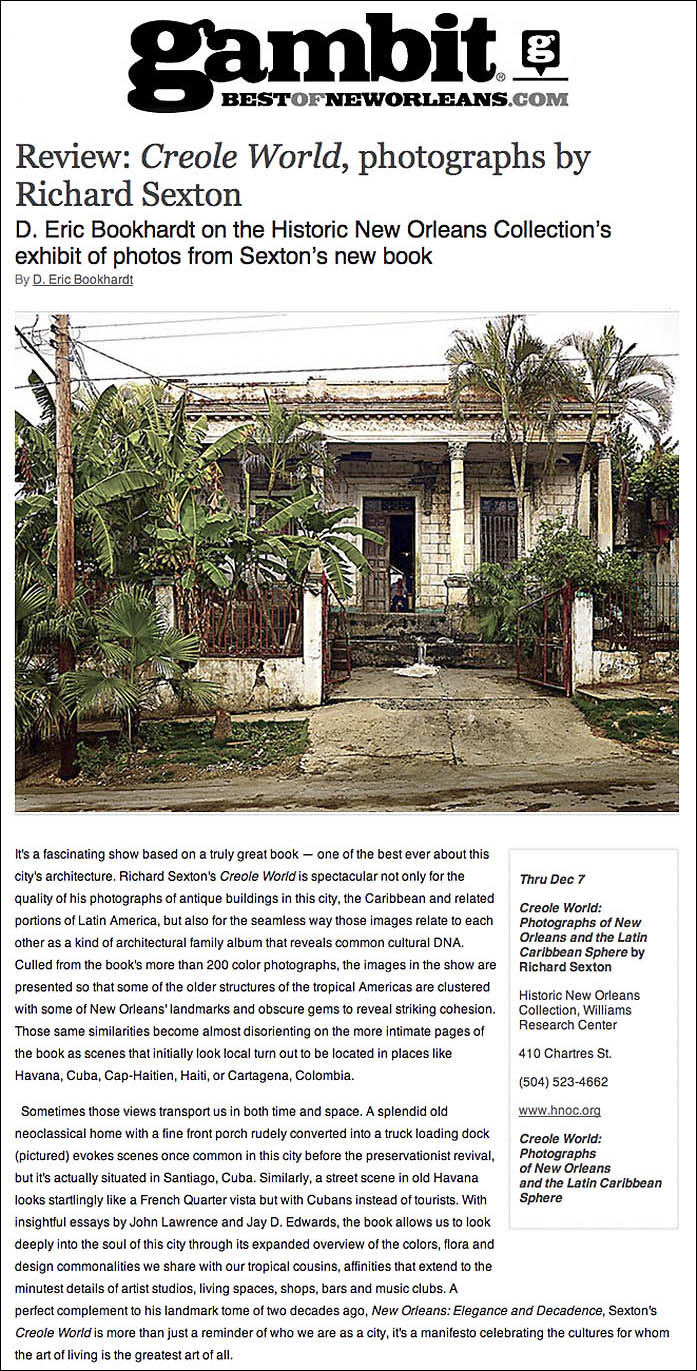 Sexton. . . succeeds splendidly in his latest book, Creole World: Photographs of New Orleans and the Latin Caribbean Sphere. Published this week by the Historic New Orleans Collection, Sexton's lush compendium gathers nearly four decades of documentary work from Cuba, Haiti, Colombia, Panama and New Orleans.
—Chris Waddington in New Orleans Times-Picayune; April 18, 2014
The strength of the exhibit lies in the visual playground of the photography. Vivid colors highlight the journey the visitor goes on as he explores the regions afar as well as in their own backyard of New Orleans. And one does not have to travel far to see firsthand the beauty portrayed in this exhibit. All around the city of New Orleans there are the cottages, shotguns, mansions, churches, and people that mirror the photographs.
—Anita Oubre in New Orleans Tribune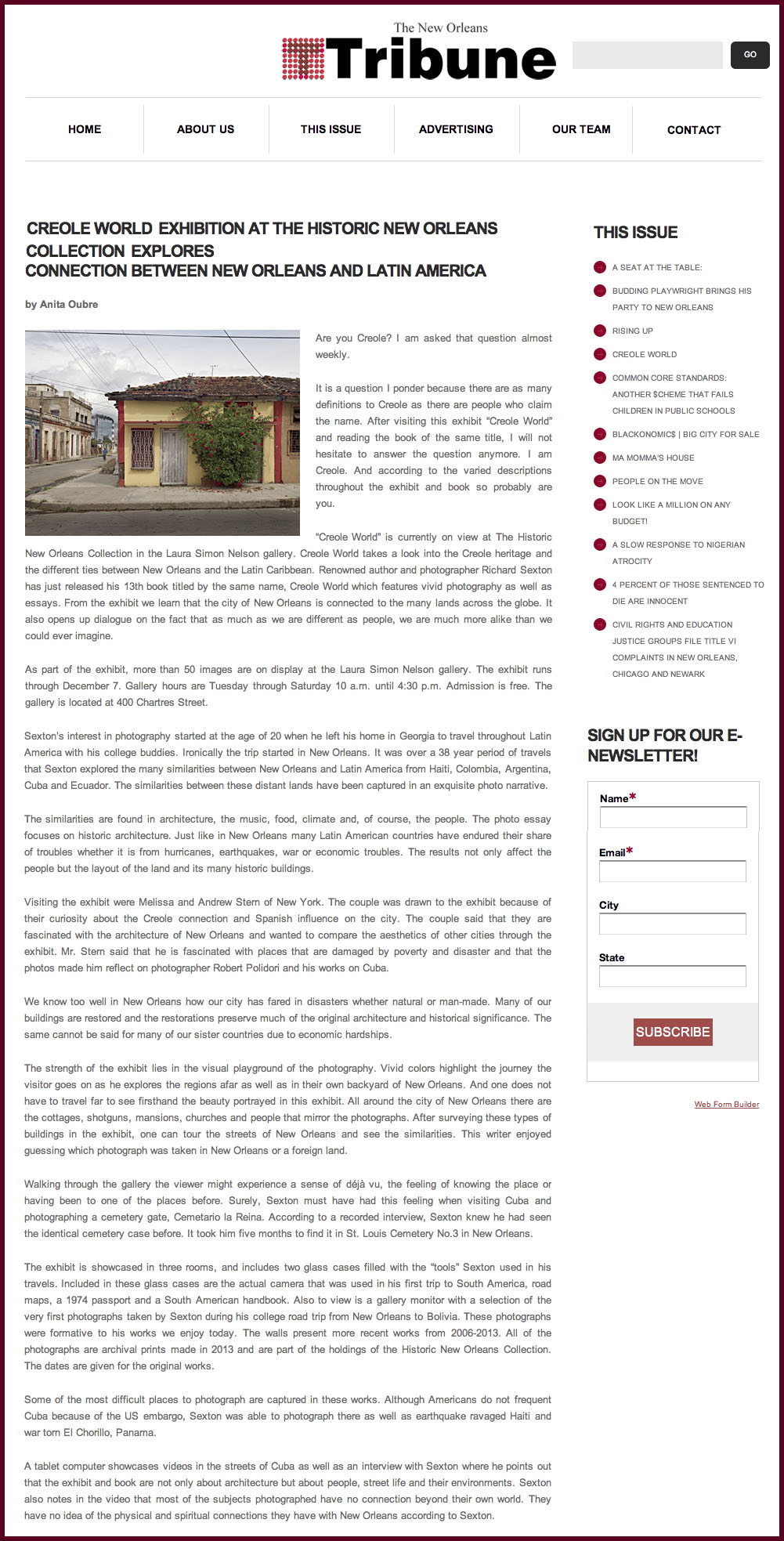 Decaying buildings, peeling paint and often third world depictions of Sexton's Creole World are entangled in beauty. The dashes of human experience he conveys in the stunning architectural grids is subtle yet powerful, as illuminated by an image of ruins of a leprosy hospital in Caño del Oro, Colombia. Architecture may decay, but Creole life is alive and streaming. Sexton hits the nail on the head and offers a view into otherwise unknown layers that have impacted our local community—past, present, and future.
—Ashley Rouen in NOLA DEFENDER; October 28, 2014