Click any image to view slideshow.
Terra Incognita, Creole World, and Enigmatic Stream are unique in that these projects are exhibitions, as well as books. For information regarding the inaugural exhibit and subsequent travel venues for these projects from 2015 to the present, please visit the News Blog. To see images from the Terra Incognita exhibit, click here.
---
Terra Incognita: Photographs of America's Third Coast
Photographs and Preface by Richard Sexton
Foreword by J. Richard Gruber
Introduction by John Lawrence
Afterword by Randy Harelson
Book Design by Vanessa Dina
Distributed by University Press of Mississippi: www.upress.state.ms.us
ISBN: 978-1-60473-913-8
$40 retail
A limited edition of Terra Incognita was published by Chronicle Books in September 2008 and is available through Richard Sexton's galleries and select booksellers. The gallery edition includes a linen covered clamshell case and an original signed quadtone pigment print of the cover image. The gallery edition is limited to 200 books. $400 retail. This edition is shown in the slideshow below:
This slideshow requires JavaScript.
A second edition of Terra Incognita was published in mid-May 2010 with a retail price of $40.00. This edition is published by Capitola Art Press, New Orleans, in conjunction with the Ogden Museum of Southern Art, University of New Orleans. It is distributed by University Press of Mississippi. This edition features a new cover, but is otherwise identical to the original edition published by Chronicle Books, San Francisco, in 2007.
Synopsis
In the early 90s, shortly after moving from San Francisco to New Orleans, I began making black/white landscape photographs of the gulf coast. Over the years, I slowly added to this body of work that began in the coastal regions of Walton County, Florida, and eventually encompassed landscapes in and around New Orleans, in other areas of the Florida panhandle, southwest Georgia, and the Mississippi coast. After fifteen years, the potential for a book-length volume of work emerged. I approached Chronicle Books, a publisher with which I had a long and successful history creating books devoted to architecture, design, lifestyle, and urbanism. Though there had been a lengthy and highly successful collaboration with Chronicle on books of a more commercial nature, Terra Incognita was somewhat different in that it was conceived as a fine art photography book. In Terra Incognita, my photographs are the central focus of the work.
—Richard Sexton
A major exhibition of the photographs from Terra Incognita was organized by The Ogden Museum of Southern Art in New Orleans. This exhibit of approximately 60 images was on display at the Ogden from October 6, 2007 through January 2, 2008, concurrent with the release of the book.
Terra Incognita features 83 black/white images reproduced in high-quality duotone with a spot varnish. The format is 11" x 12" and includes two gatefold full-bleed reproductions that are 12" x 44" in scale.
Commentary
"Following a path and a vision of the coastal South established by painters such as Regis Gignoux, Joseph Rusling Meeker, George Herbert McCord, and Martin Johnson Heade, and extended by photographers including William Henry Jackson, Walker Evans, and Clarence John Laughlin, Richard Sexton's Terra Incognita is a significant addition to the visual history of the Gulf Coast South."
— Dr. J. Richard Gruber, from his foreword to Terra Incognita
"Richard Sexton not only finds beauty in the landscape, but meaning and worth. In the end, these photographs, through the explorations of their maker, foster some understanding of the lesser known, permitting us to find, in this unknown land, recognition and universal truth."
— John Lawrence from his introduction to Terra Incognita
"Terra Incognita is simply brilliant. A lovely book, with very strong and well seen images, beautifully produced. I love the reproduction quality."
— Michael Reichmann, photographer, photo educator, and editor of the Luminous Landscape web site
Reviews
Lost Coast
by Julia Reed
Fetch Magazine
2010
"Since the April Deepwater Horizon explosion, the entire Gulf Coast has been in serious peril. It has long been a subject of photographer Richard Sexton, whose 2007 book Terra Incognita lovingly documents the tangled swampland and once-pristine beaches between Georgia and Louisiana… And we urge our readers to take a look at the brilliance and (now) poignance that is Terra Incognita.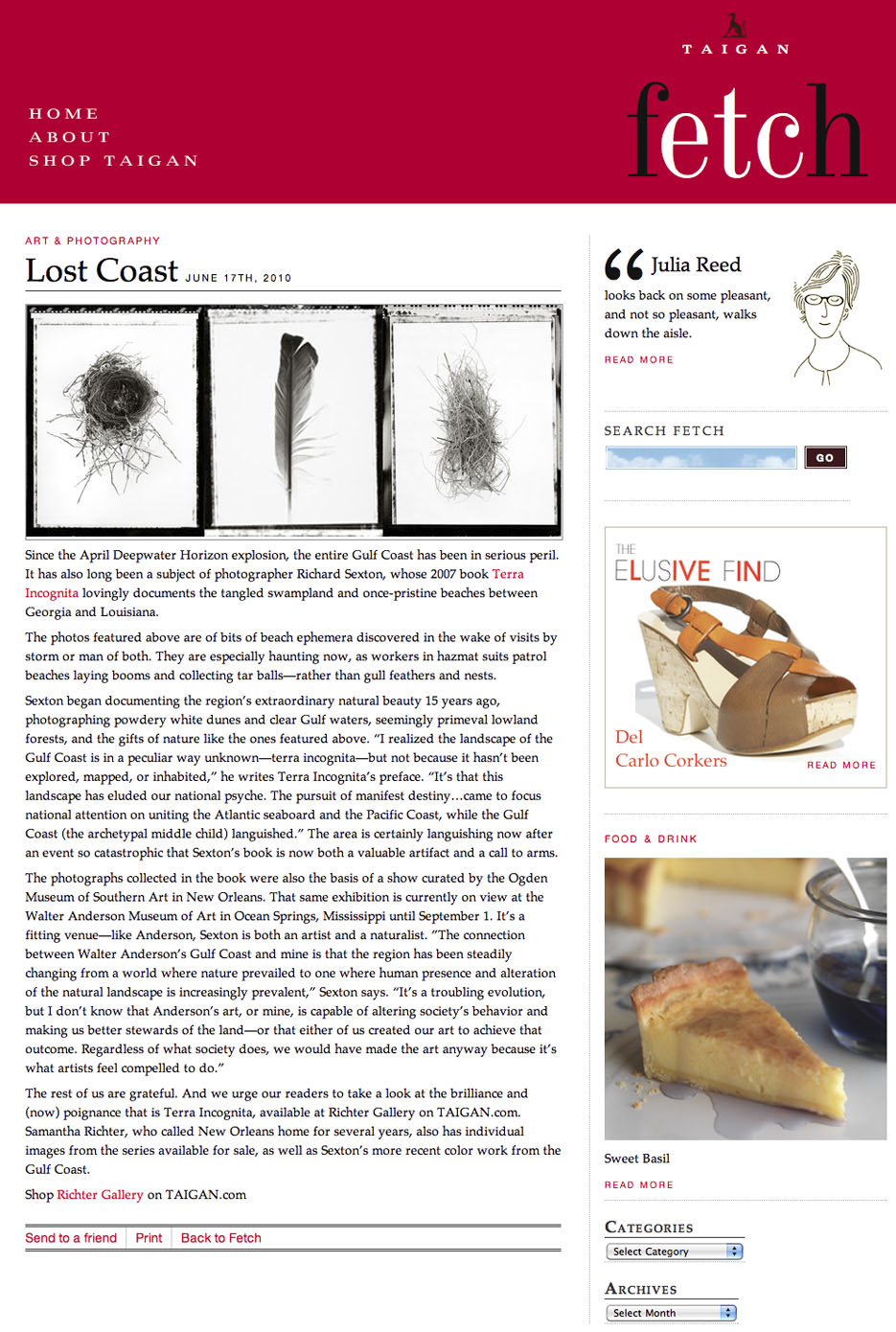 Best in Show
Rust Never Sleeps
Recommendations by R.C. Baker
Village Voice August 28th, 2007
The beautiful duotones in this book, subtitled Photographs of America's Third Coast, reveal a photographer with a painter's patience – the desolation in these views along the Gulf Coast imply a long trek before the tripod is even set down. Nothing in these extremely fine-grained prints remotely resembles a "snapshot." Black branches of dead trees scribble across luminously gray skies; humps of white sand scoured by the wind contrast with frazzled skeins of vegetation darkening their lee sides; Spanish moss drips down like the turpentine drizzles in an abstract -expressionistic painting; distant shorelines are as soft and gray as charcoal smudges. Sexton's spare compositions coalesce into a portrait of nature as the ultimate abstractionist. 128 pp. $50, chroniclebooks.com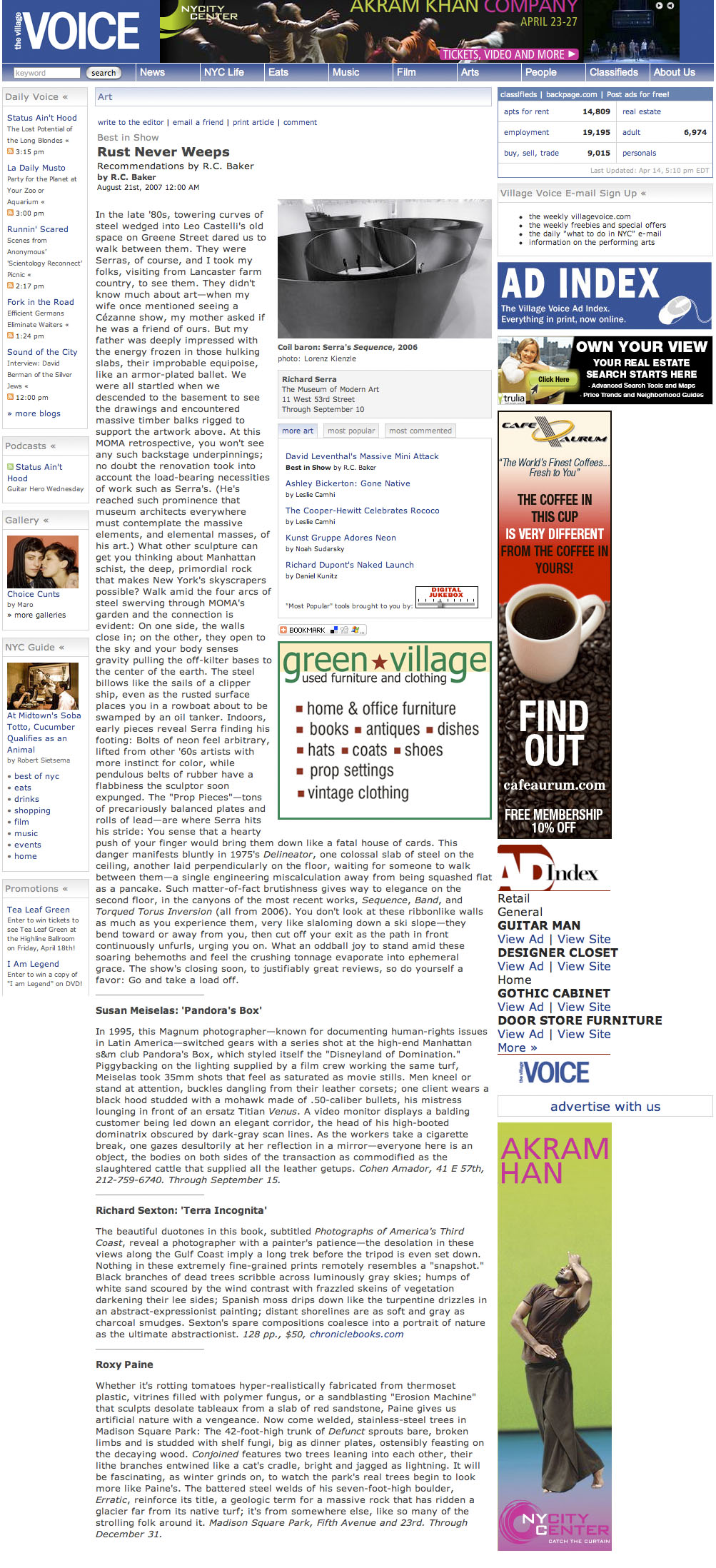 Beach Scenes
By D. Eric Bookhardt
Gambit Weekly October 9, 2007
Included in it's entirety:
Less dramatic than the Pacific coast with its rocky promontories and frothy jade surf, and more intimate than the imposing shores of the Atlantic, the Gulf Coast has long been overlooked as one of America's defining regions. Consequently, it is this country's neglected Third Coast, or such is the premise on which an exhibition and a new book by New Orleans photographer Richard Sexton are based. . . Sexton has chosen to ignore the easiest and most eye-catching subjects in favor of something deeper and more subtle. In so doing, he sets an intentionally high bar that is challenging in any number of ways. . . Sexton, a Georgia native who grew up near the Okefenokee Swamp, focuses his lens on the vacant beaches and desiccated foliage of the Gulf Coast in winter, a time when its unbridled baroque opulence gives way to a sparseness of line and form, a silver-gray rectitude rendered in classic black-and-white photographs. In that sense, it is a very Lenten vision, a meditation on transience and temporality.
In fact, Transience is the title of an emblematic image of the beach in winter, with footprints in the damp sand leading toward a lone wanderer in the distance. Here the waves seem cast in pewter, dimly reflecting a sun obscured by the sea fog that wafts over the horizon. As a landscape, this study in minimalism is about as far from Ansel Adams as you can get, but that's probably a good thing under the circumstances. Of coures, drama is never really absent. Ascension is a classical Florida beachscape with cottony cumulus clouds in a darkly cosmic sky rising over a sand dune topped with a thatch of foliage and grasses and, for a moment, you can forget that this is really a state park and not one of Walter Anderson's uninhabited barrier islands. Echo is a view of a long dead, sun-bleached, storm-sundered tree, its remaining branches outstretched in a horizontal pantomime of anguish, and here we enter the world of surreal nature, the fabled preserve of Max Ernst, Clarence Laughlin and Frederick Sommer.
This view of nature as a tangled labyrinth appears in his swamp scenes as well, in his Medieval Dreams series of landscapses of massive live oaks rising from tangled vines in wilderness preserves. Similar sensibilities also surface in a series of still life studies of birds' nests in which the usual straw and reeds are interwoven with twist ties and other discarded artifacts of human consumer culture. Ultimately, the power of this series, in the the show as in the book, rests with its subtleties and silences, the familiarity of the swampy jungle that miraculously reappears as soon as any parcel of land in these parts is neglected and in the all too familiar sight of dead trees in swamp forests decimated by storms or the clear-cutting by commercial interests that only seems to invite more, and potentially apocalyptic, storm damage. All in all, Terra Incognita makes for an interesting meditation on the more intimate and familiar side of nature and the arcane, sometimes surprising mysteries contained therein.
Picture Magazine
Nov/Dec. 2007
Terra Incognita is a wonderful collection of strong and traditional landscape and still life images devoted to the United States' Gulf Coast.
Vogue
Dec. 2007
Terra Incognita captures in haunting black and white images a bayou landscape both evocative and fragile.