New Thirtieth Anniversary Edition
A new edition of New Orleans: Elegance and Decadence was published in Spring 2023 by Schiffer Books, Atglen, PA, on the 30th anniversary of the original release. It features a slightly larger format; a new cover; a new layout with larger images, a more modern design, and digitally enhanced image reproduction. Concurrent with the launch of the 30th anniversary edition, The Ogden Museum of Southern Art will feature an exhibit of photographs from the book, which will open on September 21, 2023, and run through November 26, 2023. Additional information about this exhibit can be found on the Ogden's website here: https://ogdenmuseum.org/exhibition/new-orleans-elegance-and-decadence/.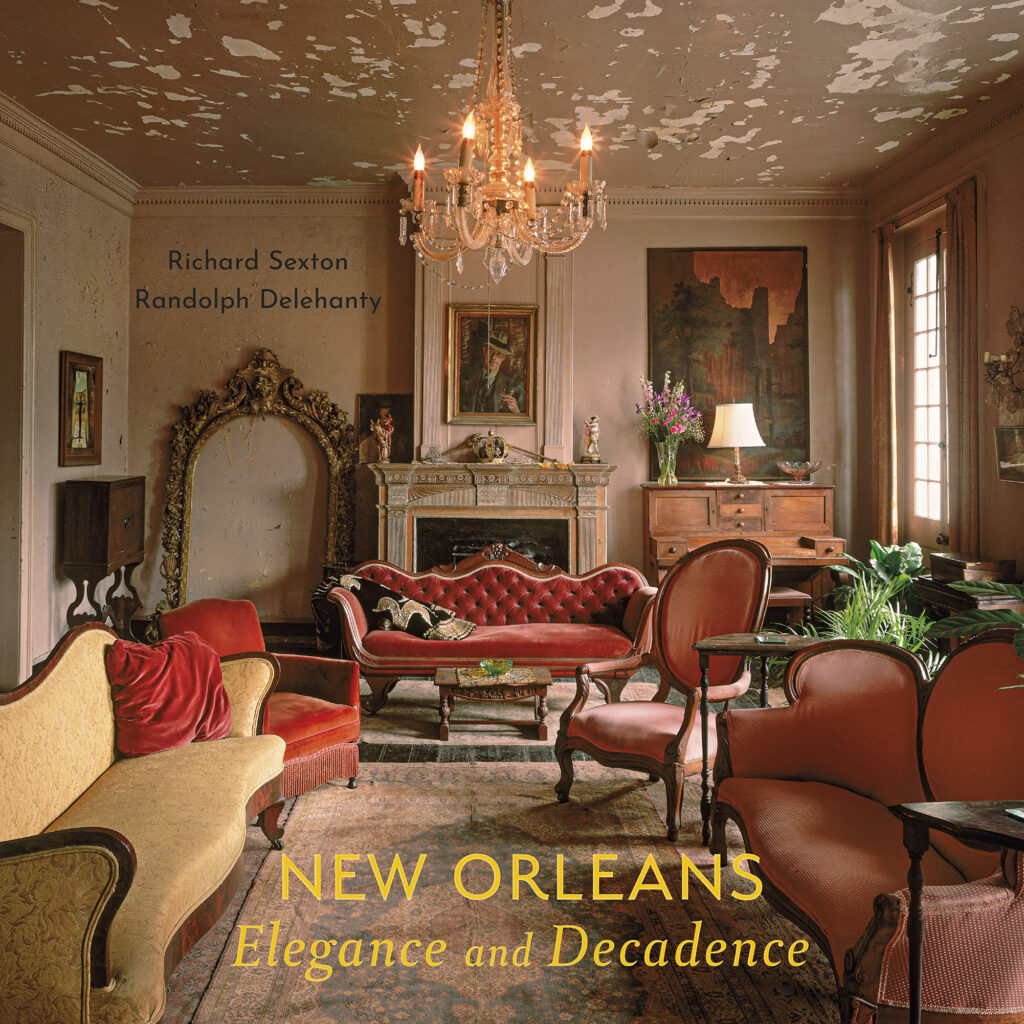 Click on any spread below to begin the slideshow.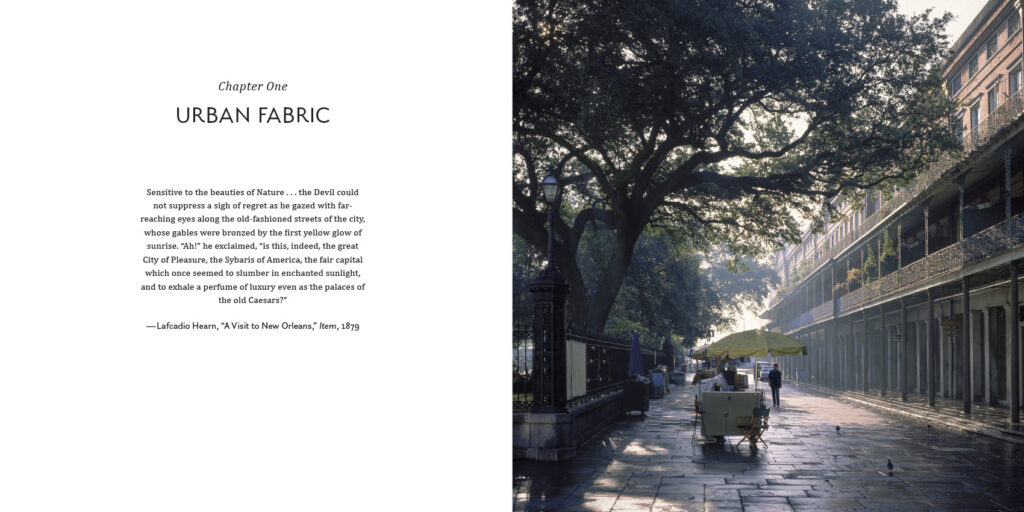 Photographs by Richard Sexton
Narrative by Randolph Delehanty
Schiffer Books; Atglen, Pennsylvania, 2023
ISBN: 978-0-7643-6598-0, $45 retail
Synopsis
From the combined standpoint of critical acclaim, sales, popularity, and influence, New Orleans: Elegance and Decadence is perhaps Richard Sexton's most successful title to date. Originally released in 1993, Elegance and Decadence has had multiple hardcover printings, a second edition was published in 2003 and then re-issued in 2012. These Chronicle editions sold over 90,000 books, making this title one of the most successful photographic books ever about New Orleans.
New Orleans: Elegance and Decadence is an ambitious photo-essay focusing on the historic architecture and neighborhoods of New Orleans, the effects of the passage of time on this historic urban landscape, and the lifestyles and trappings of some of the city's more eccentric, creative, and impassioned residents. New Orleans: Elegance and Decadence is presented as a photo album of the city. The only continuous narrative is the one told by the photographic images, with extended and insightful captions by co-author Randolph Delehanty. The photo essay is comprised of four broad themes: URBAN FABRIC, INWARD VIEWS, VERDANT ENCLAVES, and CULTURAL REVELRY.
Many photo essays have focused on the characterization of place. Within this genre, New Orleans: Elegance and Decadence has been successful and enduring.
Authors Richard Sexton and Randolph Delehanty interviewed by Susan Larson on The Reading Life. To listen click here: https://www.wwno.org/podcast/the-reading-life/2023-09-15/the-reading-life-richard-sexton-and-randolph-delehanty 
Reviews
"New Orleans: Elegance and Decadence is a dreamy poem of a book, a lovely evocation of the city's twin charms…Sexton's rich, evocative photographs in combination with Delehanty's text, discursive and witty, give a sense of how these spaces are loved and used…. This beautiful book is a toast to the way we live in New Orleans, a tribute to a lifestyle of insouciance and exuberance, touched by both spirituality and worldliness. In both word and image, Sexton and Delehanty have got it right; rarely has the city been loved both so wisely and so well."
– Susan Larson, Book Editor, Times-Picayune; Oct. 1, 1993
"…a lush compilation of photographs focusing on age and the passage of time in this venerable city…resulting in a beautiful reflection of the seductive side of the city. It's a mix of cultures, a mix of antique with funk, a blend of the very old with a touch of the odd…"
– Mary Beth Romig-Price; Arts & Letters; New Orleans Magazine, Oct. 1993
"Our top ten gift books…New Orleans: Elegance and Decadence is a gorgeous book that covers unexplored territory. Sexton's moody photographs capture the unique manner in which some of its residents live."
– Mary Daniels, Home Section, Chicago Tribune; Dec. 5, 1993
"Signs of age and the patina of centuries are celebrated at every turn…This is the definitive volume for those who've wanted to visit sunny verandas and shotgun cottages in New Orleans."
– Diane Dorran Saeks, San Francisco Chronicle; Dec. 22, 1993
"… it's a look into a city's soul."
– Madeleine McDermott Hamm, Houston Chronicle; Dec. 5, 1993
"… the most sensitive look inside New Orleans since Lafcadio Hearn…New Orleans: Elegance and Decadence is certainly the best photographic book ever on the city."
– Dr. Patricia Brady, former director of publications, The Historic New Orleans Collection, and former president of New Orleans/Gulf South Bookseller's Association
The original Chronicle Books edition of New Orleans: Elegance and Decadence (now out of print)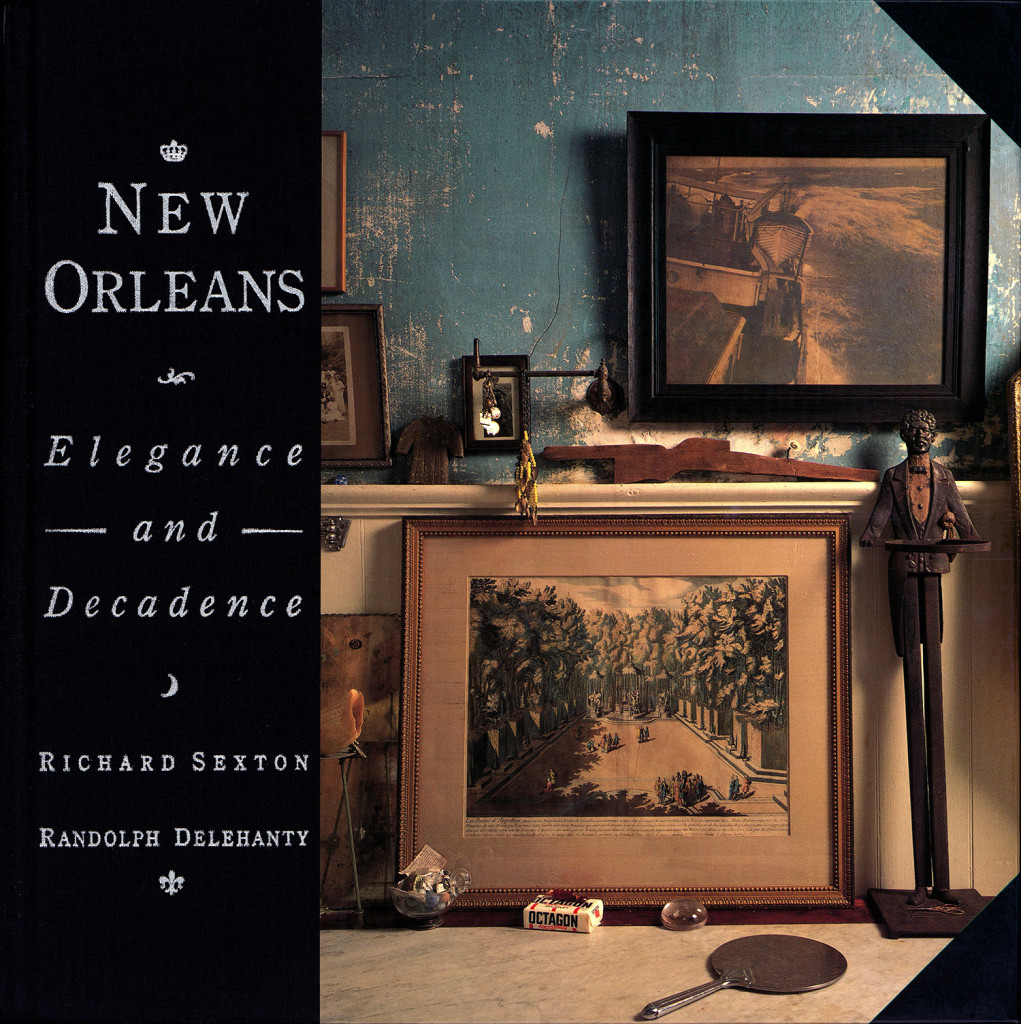 New Orleans: Elegance and Decadence
San Francisco: Chronicle Books, 1993 to 2021
Photographs by Richard Sexton
Narrative by Randolph Delehanty
Book design by Charles Routhier, Storehouse Co.
222 pages, over 240 color photographs
ISBN: 0-8118-0074-1
Hardcover, $40 retail
In 2020, after being in print for 27 years with multiple printings and a new edition on the 20th anniversary of the original printing, all copies of Elegance and Decadence were sold out and Chronicle Books listed the title as "out of stock." Then in 2021, the status was changed to "out of print," which officially ended the publication life of the Chronicle editions.